The Generation X author on the future of work and how we've all turned into millennials
Douglas Coupland has always been one of the sharpest critics of the modern workplace. His literary works such as Generation X, JPod and Microserfs revolve around smart and creative young people who are better than their bosses, but unable to thrive in the corporate world. Coupland himself left full-time employment years ago and can relate to those who make the brave step to do their own thing.
I haven't been employed since 1988. I'm still trying to recover from the trauma. Sometimes I wake up and think: Oh my God, I don't have a job, he says. My life is a vocation; I can't imagine doing anything else. I have the freedom to explore whatever idea I want, take really random gigs and projects which change my life in some way.
Coupland is talking backstage at Konica Minoltas Spotlight Live event on the future of work in Berlin this week where he was a star speaker. He says the collapse of the idea of a job for life means his generation, Generation X, and later ones think very differently about work than those born earlier. They don't perceive [a job] as being a guarantee of long-term security that's the profound difference, he says. There was a point when the idea of the job for life disintegrated. Now no one has any expectation of lifetime employment.
Work as we know it is coming to an end, he told the audience in Berlin, as cloud-based technologies and ever-faster download speeds are making the office obsolete. Our working days are becoming interspersed with leisure and home activities. We will need to learn to adapt to a freeform schedule, which will present a psychological challenge to those who crave structure. But Coupland believes we should not mourn the loss of the traditional office routine.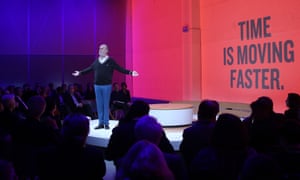 Read more: https://www.theguardian.com/small-business-network/2017/mar/30/douglas-coupland-the-nine-to-five-is-barbaric